The toplevel.com domain was first used by its original and current owner asa the location of the TopLevel Corporation.  The corporate structure was never used and eventually abandoned.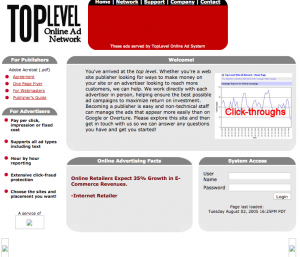 The next use was for the TopLevel Advertising Network.  At it's peak, the network reached over 1 million unique monthly users with a presence on sandiego.com, sandiego.org, sandiegoreader.com, kfmb.com and other San Diego based domains.
Written in the Java Language, the system used a library that eventually became unsupported and the network was taken down.  It is presently undergoing transfer to an environment with long term support.
Meanwhile this page services as a placeholder on the Internet.